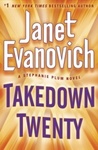 Takedown Twenty
by
Janet Evanovich
My rating:
4 of 5 stars
New Jersey bounty hunter Stephanie Plum knows better than to mess with family. But when powerful mobster Salvatore "Uncle Sunny" Sunucchi goes on the lam in Trenton, it's up to Stephanie to find him. Uncle Sunny is charged with murder for running over a guy (twice), and nobody wants to turn him in—not his poker buddies, not his bimbo girlfriend, not his two right-hand men, Shorty and Moe. Even Trenton's hottest cop, Joe Morelli, has skin in the game, because—just Stephanie's luck—the godfather is his
actual
godfather. And while Morelli understands that the law is the law, his old-world grandmother, Bella, is doing everything she can to throw Stephanie off the trail.
It's not just Uncle Sunny giving Stephanie the run-around. Security specialist Ranger needs her help to solve the bizarre death of a top client's mother, a woman who happened to play bingo with Stephanie's Grandma Mazur. Before Stephanie knows it, she's working side by side with Ranger and Grandma at the senior center, trying to catch a killer on the loose—and the bingo balls are not rolling in their favor.
With bullet holes in her car, henchmen on her tail, and a giraffe named Kevin running wild in the streets of Trenton, Stephanie will have to up her game for the ultimate takedown.
My Review:
Janet Evanovich's Stephanie Plum books are always entertaining. If I'm looking for something light to read with some humor to make me laugh, then I always go to her books. Takedown Twenty was no exception. The characters are as looney as ever! Stephanie has to bring in Uncle Sunny, who everyone in the neighborhood adores which makes her the most unpopular person of the moment. Everywhere she turns, Sunny is in hiding and no one is giving her any hints as to where. It doesn't help that Joe's Grandma Bella puts the 'eye' on Stephanie. Again. This happened before, so I think Stephanie is starting to get used to it. She's not Bella's favorite person by any means, which just adds to the complexity of her relationship with Joe. She thinks she wants to take the next step between them but she has her doubts when confronted with the large Italian family get-togethers. Then there's Ranger. Babe. Along with capturing Uncle Sunny, Stephanie is also enlisted to help solve the Dumpster murders. Someone is killing old ladies and dropping their bodies into dumpsters. And it gets a little scary when it seems that Grandma Mazur is next on the killer's list! Add all that to the typical antics of Lula and Kevin, the giraffe, and this book is enough to please any fan.
View all my reviews